AltexaBackup
Probably the only personal document backup software you'll ever need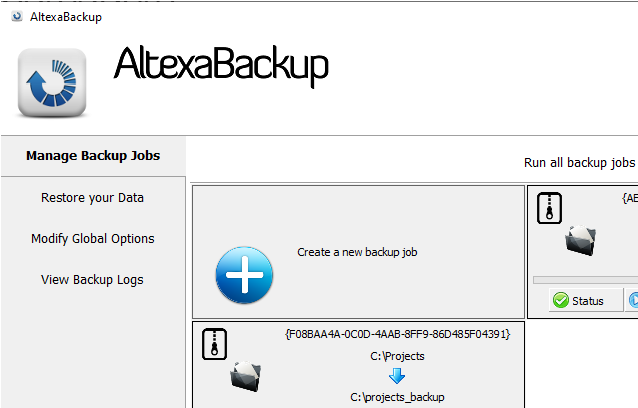 U
ser friendly interface

From helpful wizards to a clean, uncluttered interface helping you see exactly what's going on, you'll no longer be afraid of your backup system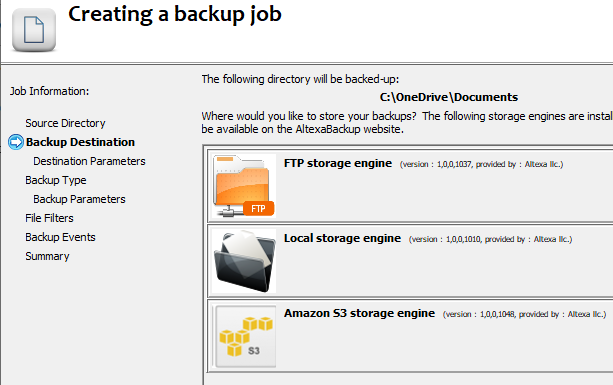 F
lexible backup options

For some people, backing-up needs to be done to a local directory, maybe an external hard disk. More advanced users might have a home-NAS they can backup to. Some might want to backup to cloud providers, or FTP sites.

AltexaBackup can handle these backup destinations - and any other destination imaginable. Several storage engines are delivered with the base system, and others are available on request, or can be developed bespoke for individual requirements.

Even the backup type itself can be chosen - by default you can either copy the files directly, or AltexaBackup can compress your source files into archives. These can be mush faster to transfer, if you are backing-up over a network, for example.

Even more useful is AltexaBackup's use of the Windows' technology known as Volume Shadow Copy, also known as the ability to backup files which are open, and locked by some other application. How annoying would it be to have to make sure you shut down Outlook every night to be sure that your backup will be done correctly? All of this is handled transparently by the backup engine. Note that Shadow Copy can only be used if your version of AltexaBackup and Windows share the same architecture - 32-bit or 64-bit. If you are using a recent version of Windows (Windows 10, for example), this will likely be 64-bit. You'll need to download the correct version of the backup suite. We provide both 32-bit and 64-bit versions - if there's a mismatch, the program logs will tell you about this.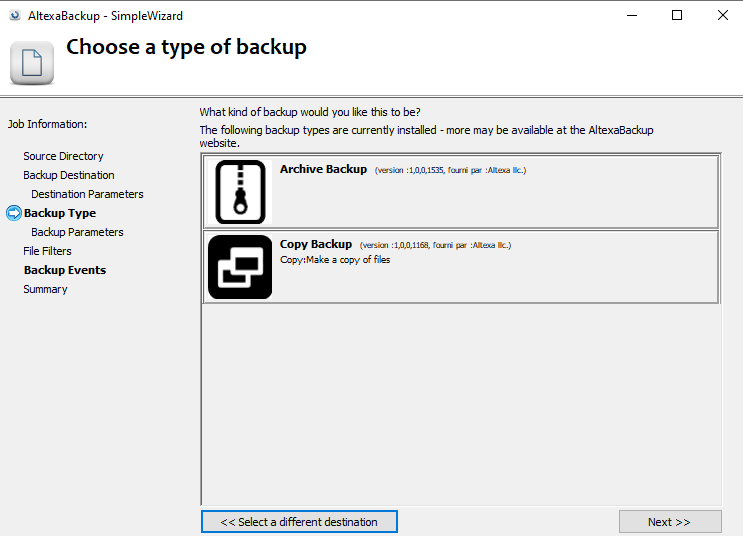 D
ata deduplication & Alternate data streams

Admit it, your hard disk is full of 'My CV.doc', 'My CV2.doc', 'My CV (copy).doc'. With its native data deduplication option (available depending on the backup type chosen, and always available for the user to activate or not), AltexaBackup can detect that two files are identical, and only backup the data from the first file - just noting that the second file is a copy. This can save considerable time, and space.

Alternate data streams (ADS) are a feature of Windows, allowing one file to contain several streams, or bits, of data. You might not usually be able to see this, but if you've ever downloaded an .exe file and Windows has told you this file originated in an unsafe location when you try to run it - that's an ADS doing its job. AltexaBackup will automatically find, and backup all ADS when you backup a file - and of course, correctly put them back when you restore!

D
etailed logging

Backing up data is probably one of the most important things you can do with a computer today. Ransomware, bugs, viruses - they can all make your photos, your documents, your emails, disappear inan instant. Having a backup - a recent backup - is important. But more important is to have a backup you can trust. By default, Altexa Backup will generate a detailed log of the work it is doing. You won't have to look at this log most of the time, but if the backup engine encounters an error it can't figure out on its own, then having the log will certainly help you. And should you need to contact us for support, we would definitely find that log most useful.

Note that the log files might contain information about your backup jobs, or names of files on your computer. Any passwords (maybe the one the backup engine uses to log in to an FTP site) are automatically redacted from the logfile.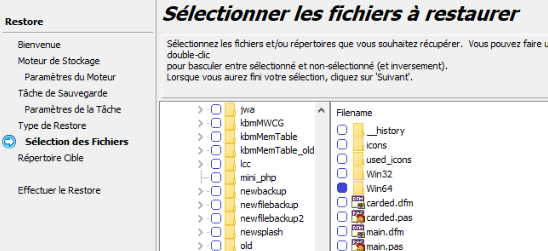 I
nternationalization (I18N)

The full backup suite - the GUI, the backup and storage engines, the logger, the tray icon, the backup service - every text in the program is translatable.

The program ships with translations in English and French, and will automatically use the language of your version of Windows, if it finds an appropriate translation. If not, it will default back to English. More translations are planned, depending on customer interest.
R
estoring your data

Having a backup is all well and good - but you need to be able to restore it too!

Naturally the backup suite provides a simple-to-use restore wizard, which can let you get your data back quickly and safely. It will prompt you first for the storage engine you used to make the backup, then any information this engine might need to find your backup job (like the name of the directory you created the backup in). Then, you'll be able to choose whether to restore all your files, or just some of them, and even which version of files you cant to recover. Then just click 'Start' and it'll do its job. Your files will be restored into the directory of your choice.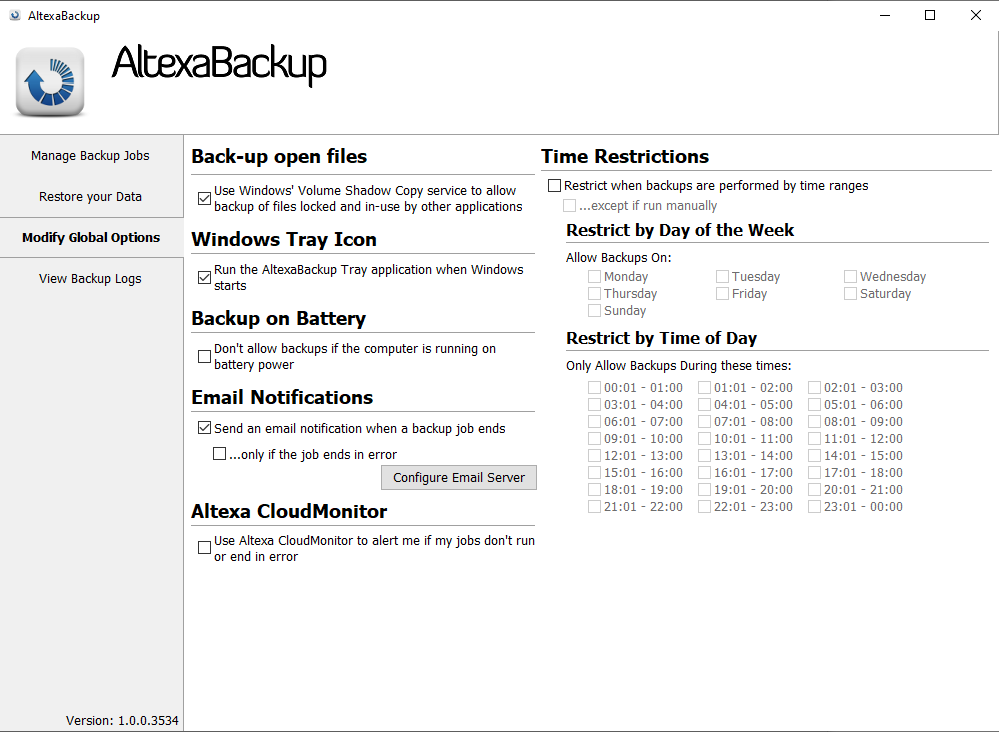 D
ownload

AltexaBackup is available to download on a trial basis. It is not time-limited, but the backup engine will only backup the first one hundred files it sees.

Right now the system is in beta while we iron out the last few remaining bugs - if you wish to participate in the beta, please send us an email using the address below.

Once the beta period is over, the program will become available for purchase.
There's no privacy policy on this website (we don't track you), we don't ask for your consent to use cookies (cookies are for eating), and we won't even bug you to sign up for our newsletter.

If you would like to contact us, please feel free to send us an email

The font used on this page is Diavlo Book, which was obtained here

All content copyright © 2021 Altexa llc.